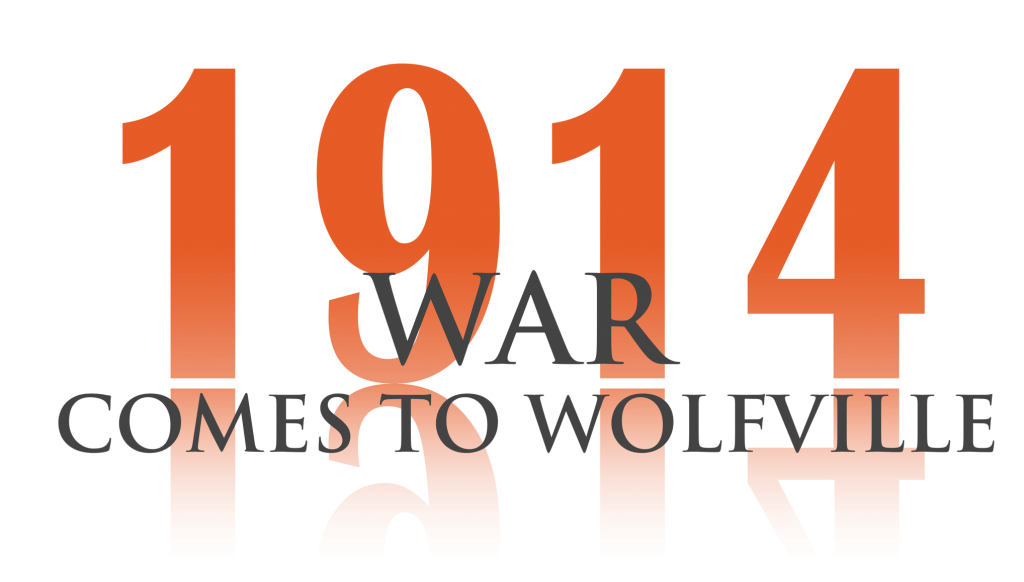 1914: War Comes to Wolfville
A PROJECT OF THE WOLFVILLE HISTORICAL SOCIETY
with the generous assistance of the Town of Wolfville and the Province of Nova Scotia
Most of our Project events are over, and Randall House is closed for the season. Several installations which were on view around town marking locations of significance during the Great War period were up until Remembrance Day but have now been removed. HOWEVER …
-  For Past Events connected with this project see our Projects page.
- Did you miss the Exhibit? View the  Exhibit Catalogue
- Other information about this Project can be viewed in our special edition Project Newsletter in the  newsletter archive here.
What's New?
A new year! Please contact us to join the Society or to renew your membership if you haven't already. Can you help in other ways? See the "Support Us" Page.
***SPRING PROGRAM, 2015
Next WHS meeting is on April 22, 2015, from 2-4 pm, at St John's Anglican Church, 164 Main Street, Wolfville.
Speaking will be Dr David Mossman about his Biography of his father, Titus Mossman, a young fisherman become soldier who served with the 85th Canadian Infantry Battalion, the Nova Scotia Highlanders, on the Western Front.
Dr Mossman, a geologist who taught geo-science at Mount Allison University where he is now Research Professor Emeritus, has written numerous scientific papers, biographies of noted geologists and topics of general interest – e.g. the tracking of extinct animals and Nova Scotian gold. Writing of his father's life and experience, and that of the 1,115 soldiers who started out in the 85th Canadian Infantry Battalion, was a challenge – the result he describes as "a creative non-fiction story of things that happened" as close to the truth as he could get.
See the poster above for more details.
***Read about our other news and plans for 2015 in our latest Newsletter which is now out . View it here!

Browse our resources
***Learn more about our local heritage through the lives of contributors to our Community. Browse the Society's Memorial Book.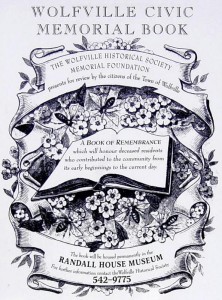 *** NovaMuse is a collection of collections. NovaMuse strives to connect collections with the public and NovaMuse is a place to share your knowledge or memory of an artefact.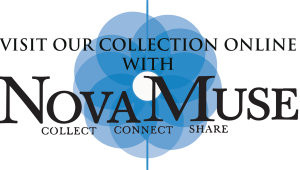 *** Also check out our Resources Page.
The Randall House Museum is operated by the Wolfville Historical Society [WHS]. The WHS is a registered Canadian Charitable Organization, incorporated in Nova Scotia by the Societies Act. The Society's mission is to interpret and maintain the Randall House as a museum for the benefit of the residents of Wolfville, its surrounding communities, and its visitors.
Responsibilities of The Society include:
• The employment of staff an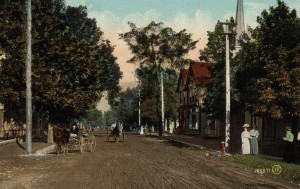 d volunteers to operate the Randall House as a seasonal museum
• The collection and preservation of records and objects of historical interest to Wolfville and the surrounding communities.
• Encouraging membership in The Society, interest in the museum and in local history, by means of meetings, historical addresses, and prepared historical papers.
• Advising the Town Council of Wolfville, or any of its commissions or committees, on matters related to preservation and presentation of the history of Wolfville, including the naming of streets and parks and the preservation of buildings.